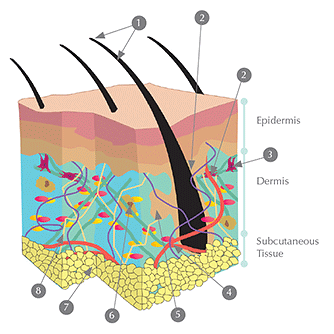 Your skin has to put up with a lot. It's exposed to the elements on a daily basis and the way it looks and feels can say a lot about you, from your age to your health and wellbeing.
So when you look after your skin it looks good, feels good and gives your self-confidence a boost.
Young, healthy, vibrant skin has greater elasticity and firmness, so it's smooth to the touch and appears luminous, and fresh. That's because the outer layer of the skin, the epidermis, is made up of cells that attract and retain water, keeping the surface of your skin soft and plump.
Healthy, young skin works perfectly at rejuvenating itself with the older cells on the surface falling away to be replaced by newer skin cells. Fibroblasts, cells that are formed in your skin's dermis layer, produce collagen and elastin that, along with hyaluronic acid, also help hydrate, plump and smooth your skin. This is how young skin stays even in tone, texture and luminosity.
As you age, your skin's natural processes become less and less efficient. Symétrie Aesthetic Clinic have a range of skincare products and treatments that are specifically designed to give ageing skin a helping hand, treating lines, wrinkles, blemishes like acne scars, changes in pigmentation and photo-damage, so that you can keep your skin looking great for longer.
Our treatments produce natural, long-lasting results in anti-ageing and problem skin resolution, keeping you looking your best.
Book a FREE consultation today and we can discuss your concerns, everybody is unique and different and we want to understand exactly who you are and what you would like to achieve from your treatment. Call to book on 01384 886 646 or book online at: https://symetrie.co.uk/book-a-consultation/